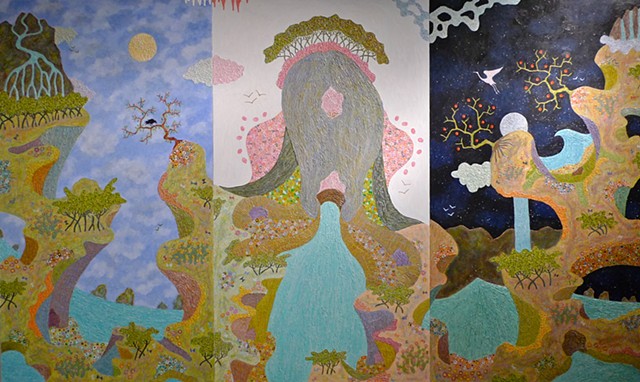 Artist Hung Viet Nguyen was born in Vietnam in 1957. He studied Biology at Science University in Saigon, Vietnam, then transitioned to working as an illustrator, graphic artist and designer since settlement in the U.S. in 1982. He developed his artistry skills independently, studying many traditional Eastern and Western forms, media and techniques. Nguyen's complex, labor intensive investigations of oil paint reveal a methodical mastery of texture. While portions of Nguyen s work suggest the influence of many traditional art forms including woodblock prints, Oriental scroll paintings, ceramic art, mosaic, and stained glass, his ultimate expression asserts a contemporary pedigree.
Nguyen has been represented and his paintings have been exhibited at
Art Fairs: MARKET ART + DESIGN HAMPTONS NEW YORK (2018, 2017), ART MARKET SAN FRANCISCO (2017), ART CONTEXT MIAMI (2018), ART CONTEXT NEW YORK (2017, 2016), PALM BEACH ART MIAMI (2016), LOS ANGELES ART SHOW, MODERN + CONTEMPORARY (2018, 2017, 2016), ART PALM SPRINGS (2018, 2017, 2016), FABRIK EXPO LOS ANGELES (2016). SPECTRUM MIAMI ART SHOW (2017, 2015), ART SILICON-SAN FRANCISCO (2015), HOUSTON FINE ART FAIR (2015), ART SAN DIEGO (2018, 2017, 2016, 2015), WestEDGE DESIGN FAIR-
SANTA MONICA (2015).
Honors include the Juror's Choice Awards, 2013 (Juror Daniel Foster, Executive Director at Oceanside Museum of Art), and the San Diego Art Institute Biennial International Award Exhibition, 2015 (Juror David A. Ross, Art Museum Professional & Curator).
FACEBOOK
www.facebook.com/Hung4Art
INSTAGRAM
www.instagram.com/hung_viet_nguyen/